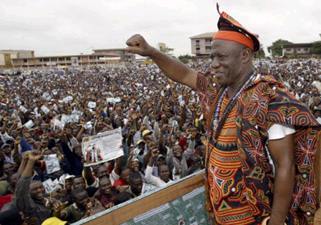 By NFOR Hanson NCHANJI on Special SDF Convention Coverage In Bamenda
Bamenda, Cameroon-Wednesday February 21, 2017-9:38 PM Local Time (Cameroon News Agency) Bamenda, the chief town of the North West region is supposed to be booming more than ever before and this evening, beer parlors were supposed to be full with each city dweller discussing about the Ordinary and Extra-Ordinary Convention of Cameroons leading opposition party, the Social Democratic Front ,SDF. That is not the case today, on the eve to the start of the convention; it is a total shutdown in Bamenda.
The Anglophone crisis has once more put the party to test and the current curfew instituted by North West governor has contributed enormously to kill the spirit of the convention. Today, people are not talking about FRU NDI or the SDF; they are talking about their safety. Before 7: 30 PM Wednesday, the town was already empty with everyone packing to go home. Gun shots were heard around the Food market during the day and as usual, the people are on alert, there might be an August guest this night.
But as the atmosphere in Bamenda looks dull and pregnant with uncertainty, the SDF party through Chairman NI John FRU NDI has vowed to hold the Convention despite threats from Proponents of the Independence of Southern Cameroon. They have in different audio messages warned the party from doing so, but Mr FRU NDI says even if it means using the same tactics he used in 1990 when launching the party, he will.
The countdown is getting to just few hours and the venue for the convention has moved to the Congress Hall, Church authorities in Bamenda for fear of the unknown could not permit the SDF use their hall.
CNA has gathered that over 2450 delegates have indicated they will be part of the Convention come Thursday. A source told Cameroon News Agency, that delegates from South Africa are already around and that they are waiting to hear from those in the USA.
For two days, Thursday 22 to Friday 23, there will be the ordinary session where the future of the party and other matters will be discussed while on Saturday February 24, 2018; delegates will hold the extra-ordinary session to choose the party's candidate ahead of the 2018 Presidential elections.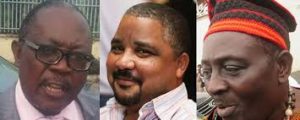 Those vying for the position are the party's Vice Chairman Hon Joshua Osih, Hon Mbah Ndam and Hon Simon Nchinda Fobi.
If you like our updates, you can support us to enable us go further in our work. Support us now on +237 679 700 696 on mobile money or call for details. Thanks