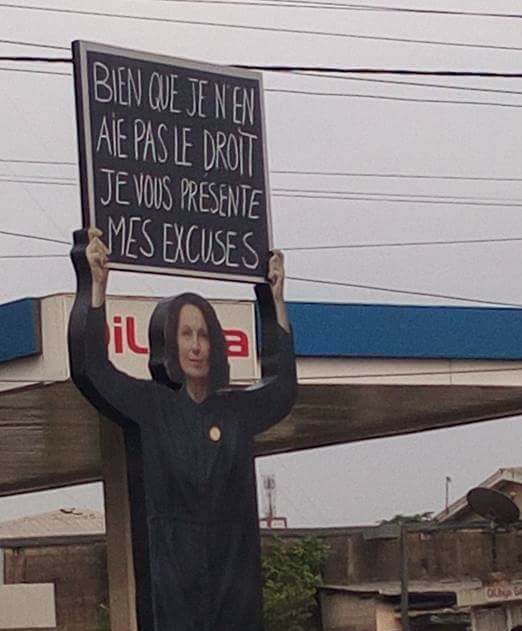 By Mefo TAKAMBOU
Douala,Cameroon-Thursday December 7, 2017-1:00 PM Local Time(Cameroon News Agency) The Government Delegate to the Douala City Council, Dr Fritz NTONE NTONE has erected a statue of French Born Sylvie Blonchor around Mobil Bonakouamouang in Akwa, Douala to the embarrassment of City dwellers after an activist Andre Blaise Essama was arrested for planning to disrupt the event Wednesday.
A placard held by the statue read, " Even if I don't have  the right; I Apologize"…meaning France apologizes for all pains she inflicted on Cameroon during the colonial period.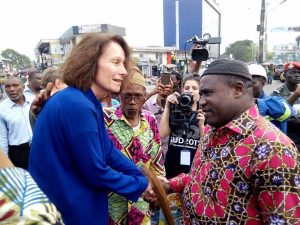 Blonchor Greeting Chiefs
News of the erection spread like wild fire in the dry season with some residents describing it as a scandal while others say it is a disgrace. "This government will not stop amazing and  disgracing us", one of the passerby whispered in disappointment.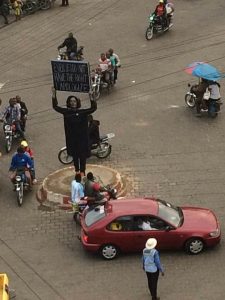 Statue of Blonchor in Akwa
How The Government Delegate Wiped Andre ESSAMA From The Picture 
On Tuesday December 5, 2017 , the renown activist learned of the eminent erection of the statue and subsequently mapped out strategies for it to end in a fiasco . As he mobilized other youths, he was picked up by Gendarme elements presumably upon instructions from Dr NTONE.
Andre Blaise ESSAMA spent the night at Akwa Gendarmerie Brigade and was only released Wednesday night after his brief appearance before the prosecutor.
Who Is Andre Blaise ESSAMA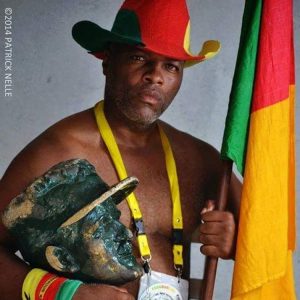 If there is any Cameroonian activist fighting for the restoration of memories of National Heroes, it is ESSAMA.
On December 27, 2016, the activist erected the statue of John NGU Foncha at the same point but was arrested and statue removed by the police.
He has destroyed several effigies of colonial masters, calling on the administration to honor local heroes.
Early Thursday ESSAMA destroyed the statue erected Wednesday but was picked up by police.
The last time he was arrested in March 2016 and later released in September same year after spending 6 months in jail at the New bell prison.
If everyone who reads our reporting, who likes it, helps fund it, our future would be much more secure. For as little as £1, you can support Cameroon News Agency on mobile money or call the number for details +237 679 700 696 – and it only takes a minute. Thank you.