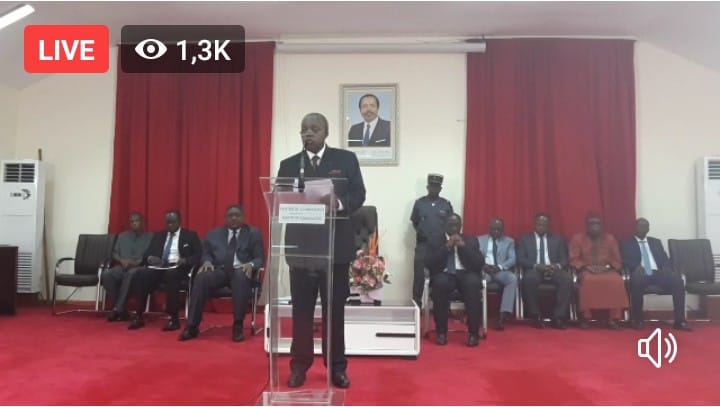 The government of Cameroon through its minister of communication, Rene Emmanuel Sadi, on Monday April 22, 2019, rushed to save her face in the eyes of the European Union ,EU, by lambasting a report by the members countries accusing Cameroon of rights abuses and political arrests.
The EU resolution on Cameroon declared April 18, 2019 has continued to instill panic in the government of Cameroon, which has resulted to several controversial responses to the EU declaration from different benches of Cameroon's administrative units.
The First reaction came from the Senate which responded in 24 hours sighting falsehood, next was the National Assembly which responded in about 48 hours and on Monday April 22, 2019, the Minister of Communication on behalf of the head of state and the government of Cameroon in its entirety, reacted in a press conference held at an ungodly hour, 11 : 30 PM.
Reacting to the EU declaration of Thursday, April 18, the minister recalled government's stands that Cameroon is one and indivisible, and its commitment to unity and territorial integrity. He reminded the World that Cameroon as a sovereign state will not allow external forces to influence her domestic policies.
The minister while responding to the accusations on the Cameroon armed forces for committing war crimes in the North West and the South West Regions, said that the population in these regions have preferred the well trained military to save them from the Ambazonia separatist fighters due to its demonstration of professionalism with respect of law in their continues efforts to tackle down those he referred to as terrorists. To him, the military that are being sent to rescue the population cannot be instigators of violence.
He added that the situation in the NW and SW regions is gradually being under control and the ongoing activities of the disarmament commission to disarm and rehabilitate Ambazonia separatist fighters is on course.
For those who were arrested and judged at the Yaoundé military court, the minister argued that the Yaoundé military court is competent in handling cases of insurrection against the nation and threat on the state's security.
According to the government's spokesperson, the EU resolution was biased and unfounded.