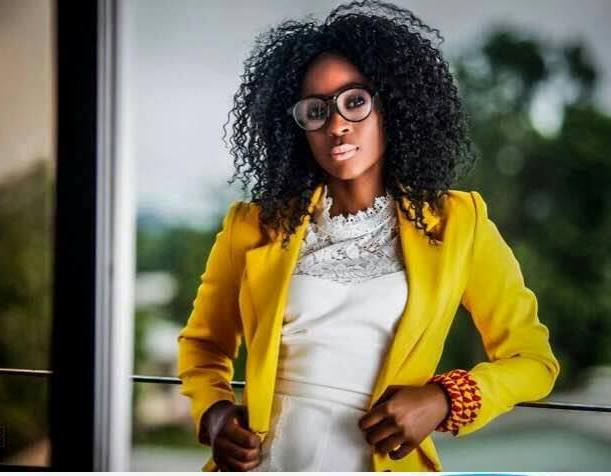 Onyama Laura Anyoni is a young talented Cameroonian actress breaking boundaries and gradually calving her niche in the industry.She hails from Oshie in the North West region and  Bombe Konye, in the South West region.
She was recently designated best Cameroonian actress during the 2017 edition of CAMIFF night which saw the presence of Nigerian actors like Ramsey Noah in Buea.
Weeks after her two awards in one night,she accepted to share her experience with Cameroon News Agency in an exclusive discussion.
CNA : Ms Onyama Laura thanks for accepting to grand CNA this interview.
Onyama Laura Anyoni: My pleasure
CNA :You were recently designated as the best actress in CAMIFF 2017, tell us more about that award.
Onyama Laura Anyoni: Well, I give thanks to God for he keeps blessing me even above my imagination. It isn't my first award but I would say I had almost same feeling as when I had my first(best actress Ecrans Noir 2016)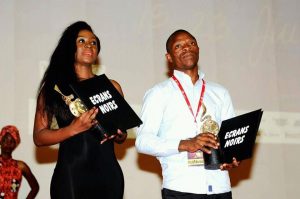 Ecrans Noir Award for best Cameroonian actress 2016.
During the first Edition of CAMIFF, which was just last year, where one of my big brothers in the industry, EPULE Jeffrey was best actor and "Alma" by EKA Christa (my role model) won best shirt film, I literally begged EKA just to take a picture with her trophy and she smiled and said 'my dear it's ours, you can have as many pictures as you want with it',  and I posed and posed with the trophy on the backdrop, little did I know I was going to have one just one year after.
My friends and colleagues asked to snap with it too, and you know what? I kept using EKA's words…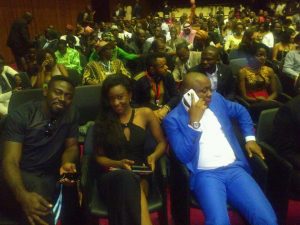 Award night Ecrans Noir(Laura, middle)
I didn't even imagine I was going to win, can't describe the feeling I had when my name was called I just hugged almost everyone around me (laughs) hihihihihi I kept hugging people….plus "Kiss of death " which gave me that award won best in the category of best Cameroonian film too,it was a great joy for the whole team, two awards in one night
CNA: What Is 'Kiss of Death' all about?
Onyama Laura Anyoni: 'Kiss of Death'  is a story of this little but very intelligent girl who is forced into marrying her father's friend and age mate…she is been violated in her marital home, she gets beaten up by her husband all the time until she finally loses her life. It's a story that talks about the importance of educating the girl child, condemns early marriage, violence against women.
CNA: What role did you play in the story?
Onyama Laura Anyoni: I played the lead character, Nayah, who goes through all these things I just named above.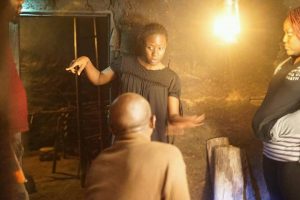 Behind the scenes picture " kiss of Death"
CNA: Apart of  'Kiss of Death' what other thrilling movies have you featured in?
Onyama Laura Anyoni: I have featured in other movies like; "Rebel Pilgrim" by Paul Samba, "Ward Zee " by Itambi Delphine, "Lecon" by Patrick Timbe "Rumble" by Billybob Ndive and many others.
CNA: Which of the roles did you enjoy best
Onyama Laura Anyoni:"Rumble", Lecon"," Ward Zee ".
CNA : If you were asked today to describe the film industry in Cameroon ,what will you say, looking at how far you have gone. Is the industry up to task on the international scene?
Onyama Laura Anyoni: The growth is slow but I think that's because the government doesn't believe in us yet, potential investors as well as our fellow brothers and sisters are yet to believe in us and start consuming our products but I know that with the determination we have, we shall get there soonest.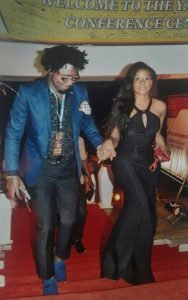 Award night of CAMIFF where "Kiss of Death " she won best film
NA : Have you ever been opportune to go out of Cameroon and experience how it is done elsewhere?
Onyama Laura Anyoni: For now no! but I have projects in the US and in Dubai as well…this upcoming year .
CNA : People have the impression that actors and actresses always date among themselves. Who is your crush in the Cameroon film industry?
Onyama Laura Anyoni: (Laughs) Hihihihi yeah true actors inter-date but it's like any other professional setting. Where single people meet they are bound to inter-date be it lawyers or journalists….people meet at various places remember? I don't have a crush in the movie industry.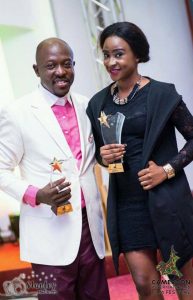 Musing Derick and Laura with  CAMIFF trophies
CNA: Have people or Directors approached you to exchange Roles for sex, we know it is very common in the domain
Onyama Laura Anyoni: Fortunately for me I haven't had that experience… and I don't think I can have it now.
CNA: How  far do you think you will go or intend t go in this acting career
Onyama Laura Anyoni: I will go as far as Hollywood. …my awards will go as far as the Oscars…with God all things are possible
CNA: Is our actress seeing someone or she is available?
Onyama Laura Anyoni: Hayyyyyyy!!! that one is complicated ohhh please don't ask
CNA : (Interviewer Laughs)Hahaahahaa!! You running away from the  question right?
Onyama Laura Anyoni: Hihihihihi!!! 'asue ohhh', this relationship things sef!
End of Interview