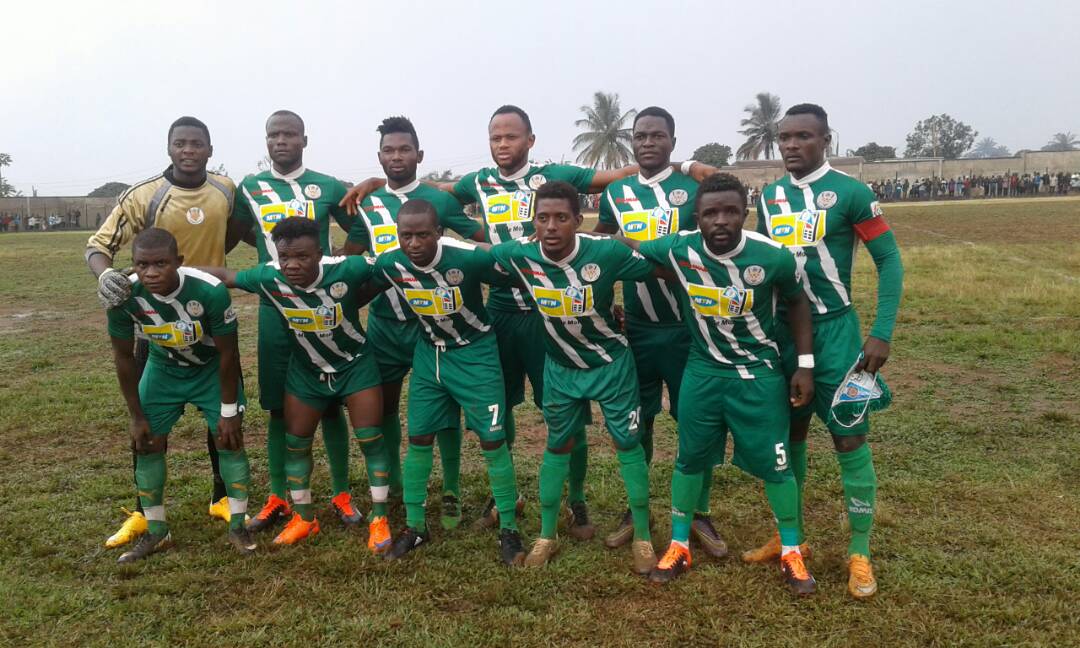 By ANGU Lesley Akonwi
For the first time in their brief history,on Sunday 11/02/2018, seven(7) years old Feutcheu FC challenged 10 years old Apejes of Mfou at the Limbe Centenary stadium. A keen look at some if not all the players in the last quarter of Sunday's game and the a series of missed opportunities for both clubs showing work is still to be done by all coaches.
Though Brandon Simon Moukete goal gave Apejes the lead,Feutcheu dust themselves, came from behind to beat Apejes by 2 goals to 1 with goals from Toko Toko and Ashu Tambe.
Some of the other fixtures were observed on Monday. A breif summary of the match is as follows;
Matches program=9
Matches played= 7
Number of delay games: 2
Number of goals scored=17 goals
Home Victories=3
Away Victories= 2
Draw games: 2
Highest goalscoring game: Stade Renard VS USD.  With 5 goals.
The opening fixtures have seen 2 of the last 3 champions failed to win.
All 3 promoted clubs from last season failed to win.
Stade Renard forward Tamo Griesse Tinwo is the first player to score a brace this season.
A complete results is as follows;
FEUTCHEU FC 2 -1 APEJES MFOU
*The Stats:*
1)For the second season running Feutcheu FC have defeated Apejes Mfou by 2 goals to 1.
3)This clash is carefully building her reputation as the fixture which always guarantees goals.There have been 11 goals in  only 3 elite one between this two teams.
Fovu 2 – 2 Cotonsport
*The Stats;*
1) Cotonsport of Garoua have recorded draws in 4 of her last 6 elite one games stretching into last season.
2)The last 2 elite one meetings between FOVU and Cotonsport have ended on a 2 all draw.
3) Marius Mouandilmadji scored in Cotonsport debut aged 19.He is seen by many to be the ideal man to replace Kamilou Daouda when Kamilou retires  and Kamilou got his first Cotonsport in 2007 at the age of 19 too.
YOSA 0 – 0 YAFOOT
*The Stats.*
1) It was the first time this two clubs were meeting in Elite one competition.
2) YAFOOT FC have failed to score in their last 2 visits to  Bamenda.YAFOOT last visit to the north west saw them suffer a shock 1 nil defeat in the hands of PWD Bamenda in Elite two.
AIGLE 0- 2 Bamboutous FC
*For the Stats*
1)Bamboutous have now won the last two meetings between this sides by a 2 goal margin.
2)Aigle have recorded a win in only one of the last 4 meetings against Bamboutous, that victory came on the 5th of June 2016.
3)Aigle and Bamboutous have now clashed 5 times in the new Elite one era with Aigle recording 2 victories and Bamboutous recording the same number of wins.
RENARD 4- 1 USD
The Stats;
1 ) USD scored their first and only goal ever against Stade Renard on Monday
2)Since Stade Renard got promoted to the elite one championship USD have never beaten her.
2 ) Stade Renard Melong have won against USD in 2 of the 3 past elite one meeting.
DRAGON 1 – 0 UMS
The Stats:
1) Dragon 1 nil victory ended her run of 5 games without a win against UMS.
2) Dragon have now recorded 2 wins in 7 elite one confrontations against UMS. Yesterday's win follows that recorded on the 11/04/2015
3) Yesterday's result saw Dragon keep a clean sheet against UMS for the first time in 7 elite one meetings.
FORTUNA 0 -2 UNISPORT
ASTRES – EDING (postponed.)
B
N.STARS – COLOMBE  (postponed)
*Unofficial Classification*
Clubs            MP|Pts
1- Renard      01 | 03
2- Btos          01 | 03
3-  unisport   01 | 03
4- feutcheu    01 | 03
5-  Dragon     01 | 03
6- Yafoot        01 | 01
7- fovu           01 | 01
8- Yosa          01 | 01
9-  coton        01 | 01
10- Apejes     01 | 00
11- UMS        01 | 00
12- fortuna    01 | 00
13-  Aigle       01 | 00
14- USD         01 | 00
15- N.stars    00 | 00
16- Eding      00 | 00
17- Colombe 00 | 00
18- Astres     00 | 00