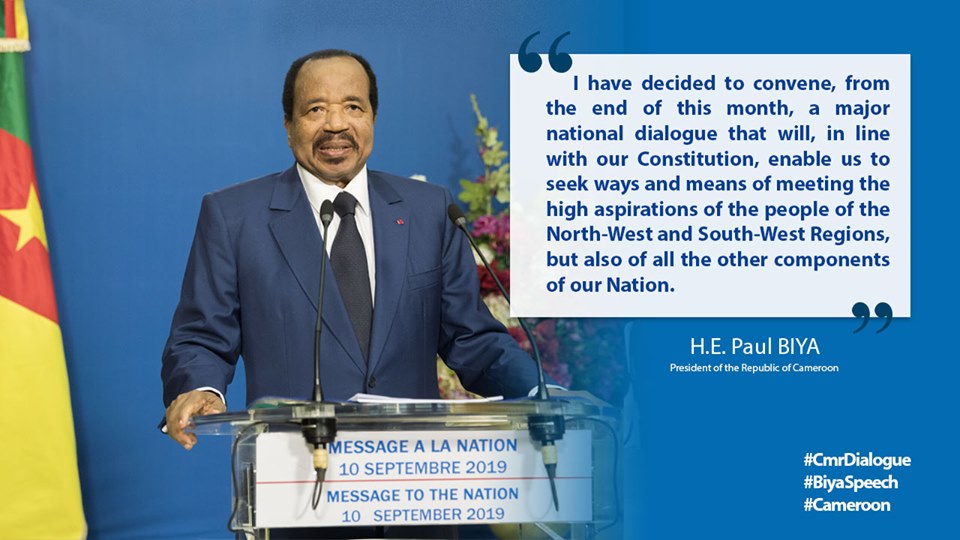 By Innocent A.
In case you missed some key points in the address of President Paul Biya to the nation on Tuesday, September 10, 2019, these are some points to take home.
Greatly Concerned about the Anglophone Crisis, President Biya announces a Mega National Dialogue before end of September 2019. Will involve all intellectuals in Anglophone Cameroon and the diaspora to be met by a delegation to be dispatched. À wide range of persons will be involved and contribute in the peace initiative to be headed by PM Joseph Dion Ngute in whom Biya is well pleased.
The dialogue is an opportunity to close the painful chapter once and for all so that normal life returns, with the resurrection of economic, agricultural and social activities. Thus, all should work towards a successful dialogue, so as to enhance prosperity and growth of Cameroon.
Jailing Ambazonia leaders will not serve as an obstacle to this announced dialogue as many think and spread.
Separatists fighters have another opportunity to drop down arms and fear not to be integrated into centers of the Disarmament, Mobilization and Re-integration Committee (DDR ) to regain normal life. Those who fail to will be dealt with by the military.
That armed sponsored terrorist groups by "diasporans" with a different nationality have killed innocent civilians, military men, burnt houses, hospitals and schools with regrettable consequences.
No such thing as Anglophone Marginalization has ever been known by the Biya Government since he came to power. That Nigeria effort is perfect and all cannot be satisfied at the same time. "When one area is happy, the other cries".
Intends to work relentlessly to meet challenges and improve the general welfare of compatriots by providing water, electricity, health care and youths employment. This will be guided by a stiff fight against corruption and improved governance.
Releasing Separatist leaders and Anglophone activists implies supporting terrorism, killing, maiming, decapitation, and secessionism.
Efforts continue, to enable displaced compatriots in Nigeria and bushes return home and for Children to return to school.
Future of all persons lies in the Republic.
That Cameroon is and remains ONE and INDIVISIBLE.