Front page
Society
Gendarme Boss Warns Officers Against Constant Leaks in Confidential Documents,Videos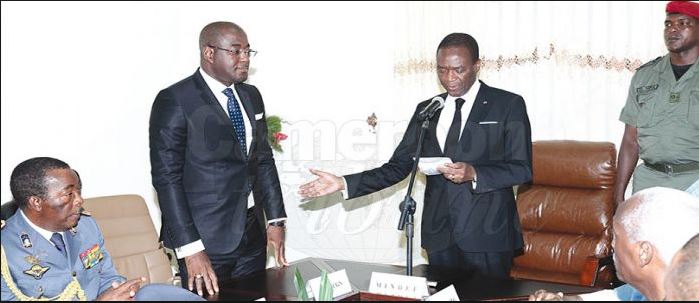 YAOUNDE, Cameroon-Tuesday June 19, 2018-11 AM Local Time (Cameroon News Agency) After constantly leaking certain confidential information and or acts by Gendarme Officers, the Gendarmerie boss has prescribed zero tolerance to defaulters.
Surprisingly, this information is contained in another circular not meant for the public but has been leaked. In the circular, the Secretary of State at the Ministry of Defense in charge of National Gendarmerie, Galax Yves Etoga promised severe sanctions to Officer who will be caught violating the following:
1-Gendarmes must not create social media fora where information can circulate; such forums can only be created after authorization. Administrators of such forums will pay a huge price if discovered.
2-No operation undertaken with android phones again from date of signature of the decision.
3-All Facebook accounts of Gendarmes revealing their status should be deleted without delay.
This measure comes days after a leaked video of Gendarmes torturing teenagers in CPC Bali made headlines both national and international.
Recently the core has been at the centre of scandals especially in the Anglophone crisis, videos of torture of suspects circulating on social media platforms are being taken by the Gendarmes themselves who seem to enjoy the scene.
This has been an embarrassment to the core and a clear exhibit of military torture, maiming looting and killings as used by International NGOs in their reports.
Embarrassed with this situation, Director of Communication at the Ministry of Defense, Col. Badjeck who has always denied military excesses, told The Info newspaper that Military reserves the legitimate rights to violence in times of crisis.
---
Make a monthly commitment to support Cameroon News Agency, long term or a one-off contribution as and when you feel like it. Help us deliver the independent journalism Cameroon needs.
                     Support now on Mobile Money 679 700 696 or call for further details.