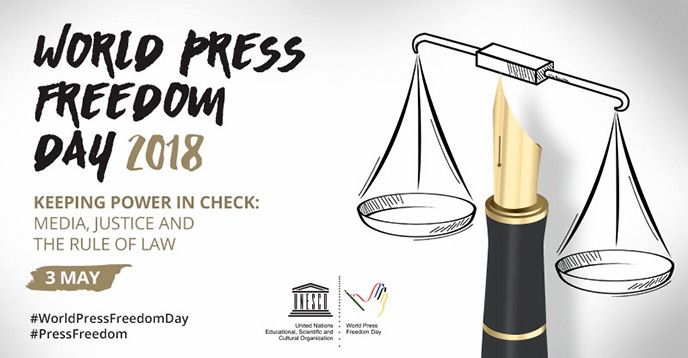 From 2 to 3 May, the WPFD 2018 international conference in Accra will encourage discussion and promote understanding and awareness about current challenges for freedom of expression. These include the role of media in elections, the independence and media literacy of the judicial system, and the accountability of state institutions towards the public. The Day will also examine contemporary challenges of threats to press freedom online.
Across the globe, recent political, technological and economic transformations have placed new strains on press freedom. Within the UN's Sustainable Development Goals making up its 2030 Agenda, the contribution of journalists and media workers is linked to SDG 16 on peace, justice and strong institutions.
In order to reach this goal, effective, accountable and transparent institutions at all levels must be developed, and press freedom. Essential to this is the right of all people in general, and journalists in particular, to use media platforms for public communication.
The main celebration in Accra will feature two plenaries, 15 breakout sessions, a youth newsroom, photo exhibitions and a film screening. On 2 May, UNESCO and the University of Ghana will organize an academic conference on the safety of journalists. For the first time, the academic conference will be followed by a Policy Lab (3 May), organized with additional support from the Global Development Network, that will foster interactions between researchers and policy actors seeking to build national mechanisms for the safety of journalists.
Deadline is fast approaching for the submission of nominations for the UNESCO/Guillermo Cano World Press Freedom Prize 2018. Eligible candidates are individuals, organizations or institutions who have made a significant contribution to the defence and/or promotion of press freedom anywhere in the world, and especially when this has been achieved in the face of danger.
Alongside the main celebration of World Press Freedom Day in Accra, national events will be organized in some 100 countries across all regions.
3 May acts as a reminder to governments of the need to respect their commitment to press freedom and a day of reflection among media professionals and internet actors about issues of press freedom and professional ethics.