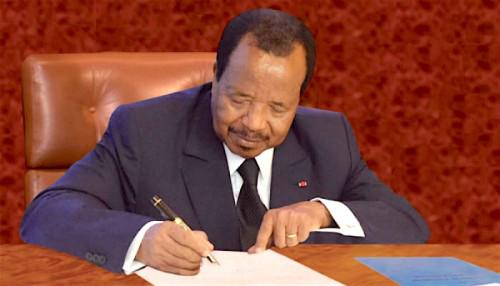 A series of decisions taken by President Paul Biya of recent have caused many Cameroonians to develop very attentive minds. 
First, he appointed Rectors, Vice Chancellors and top officials of state universities. Some of the worries raised by an embittered Anglophone in a running crisis may have been addressed directly or indirectly.
Dr, Nalova Lyonga as replaced as Vice Chancellor of the University of Buea. Some claim she was sacked, because even the presidential order does not state whether she was finally sent to enjoy her long overdue retirement.
Prof. Theresa Akenji retained her position at the University of Bamenda, while Dr. Uphei Chinje Florence was appointed Rector of the University of Bamenda.
So, three of the eight State universities are headed by Cameroonians of Anglophone extraction.
Eleven new Generals were also appointed in the army and two are Anglophones.
At the Cameroon Radio and Television (CRTV), even though no Anglophone was appointed amongst the five directors, five out of seventeen station managers are Anglophones.
SIGNS OF TIME? One cannot speculate with precision.
But after these series, hopes and speculation now abound that more surprises are in the making in the days ahead. Top of which is the long awaited cabinet reshuffle and another that may go a long way to influence the form of this nation while taking into consideration its bi-cultural and bilingual nature.
In any case, a cross-section of Cameroonians seems to have lost faith in top appointments and presidential decisions. For as long as the 35 years that Mr. Biya has been in power, it has been a recycling of John, Peter and Paul, to the detriment of energetic youthful exuberance.
And given the circumstances of the appointments; the deadlock in the Anglophone crisis that is, Mr.Biya may just be under pressure. As such, his decisions may not be rational. Should that be the case, favoritism, nepotism and cronyism, that has been complaints against this regime for many years, would be part of the country's governance.
This would not be good omen because, the appearance of favoritism, cronyism and nepotism, weakens morale in government service, not to mention public faith in the integrity of a regime, its government and its leaders.
MOKUN NJOUNY NELSON