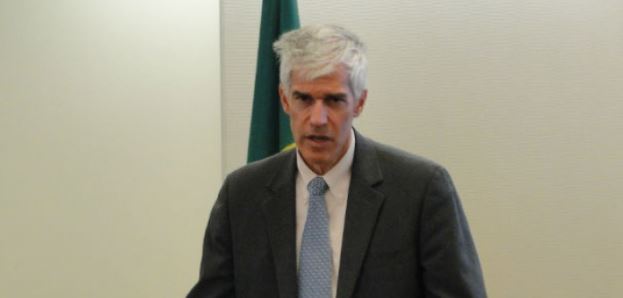 By NFOR Hanson NCHANJI
YAOUNDE, Cameroon-Monday May 14, 2018-2 PM Local Time(Cameroon News Agency) The US Ambassador to Cameroon, Peter Henry Barlerin has called on some Cameroonians living in the US to stop propagating hate speech and calls to violence in the current Anglophone crisis.
He made the call at the weekend in Yaoundé on the occasion of the handing over of two military planes to Cameroon by his government, for an efficient use in the fight against Boko Haram
The US Ambassador used the occasion to denounce what he described as hate speech creeping deep  into the minds of Anglophones but being propagated by a tiny minority in the US, he said, "We condemn hate speech and calls to violence such as that emanating from a very tiny minority of Cameroonian-born individuals living in the United States. The fact is, whether they agree with the government here or not, and many of them do not, the vast majority of the Cameroonian Diaspora living in the United States – Anglophone or Francophone – are peaceful. They are incredibly constructive and proud members of society.  And we value – I personally value – their contributions."
Peter Henry Barlerin said the US encourages freedom of speech and expression but cannot do so when it comes to preaching hatred.
He called for ceasefire between both parties and broad-based dialogue without pre-conditions.
His reaction comes days after some Activists called on all Francophones living in the North West and South West regions of Cameroon to go back to their respective regions and vice-versa.