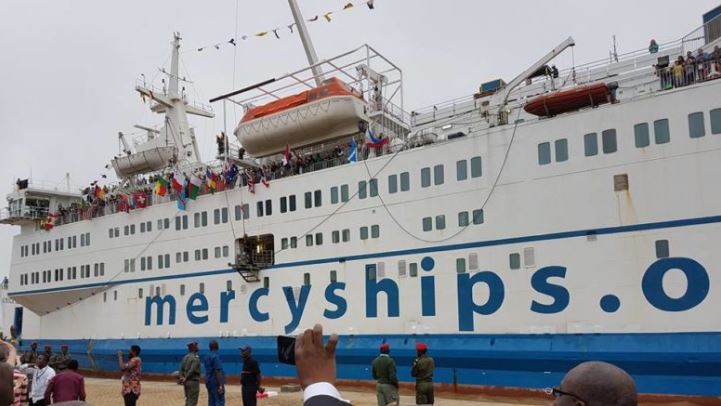 By NFOR Hanson NCHANJI
DOUALA, Cameroon-Saturday May 12, 2018-10 AM Local Time (Cameroon News Agency) Mercy Ships, a humanitarian Non Governmental Organization, operating Africa Mercy, the World's largest civilian hospital Ship, has officially bid goodbye to Cameroon after spending close to 10 months taking care of thousands of patients.
For the past  10 months, Mercy Ships has provided free specialized surgeries and healthcare services to the people of Cameroon and the Managing Director, Warrie Blackburn, in an occasion in Douala, Wednesday May 9, 2018 said Cameroon has been hospitable to them and that everybody, be it, hospital staff, professional groups, private individuals, government has played a key role in their success story while in the country.
She said they have cleared in total 38 containers of supplies and equipments to help them treat patients, 1100 crew members have travelled through the airport with free Visa Passports, 275 Cameroonians have been working to assist the crew, just to name these few.
In her address, it was revealed that Mercy Ships screened over 36,000 potential surgical patients since they arrived in August last year. They carried out  2692 operations and treated 1038 dental cases.
Warrie Blackburn also said Mercy Ships was able to renovate some structures which hosted patients during their exercises; a building at the Laquintini hospital was renovated for Dental and Eye Clinic, Biomedical workshop and the Nylon District hospital for HOPE Centre.
The Chief Medical Officer for Mercy Ships, who has been working for the NGO for 30 years now, Dr Gary Parker, lamented that for every 10 minutes in the world, a child is born of Cleft Lips; hence it is a worrying medical situation in the world. While thinking Cameroonians for their hospitality and hope, Dr Gary said, "For hope to be credible in future, it must be credible in the present."
He told the audience that Mercy Ships also organized capacity building Medical training and mentoring programs to 89 mentees in 18 different medical fields. A total of 1432 Cameroonians were also given Medical Training Courses.
Cameroons Minister of Public Health, Andre MAMA Fouda flanked by his collaborators, said the coming to Cameroon of Mercy Ships , was due to the will of President Paul Biya in his plan of providing access to quality health care to the less privilege.
He said the government is satisfied with the works of Mercy Ships and concluded that they have made people know that Cameroon can do greater things and have mute the mouths of doubting Cameroonians.
The ceremony held in Bonanjo Douala , Littoral Region, where the Ship docked since last August, ended with exchange of gifts to some crew members.
Mercy Ships will continue operations this week and will be leaving Cameroon early June, 2018.