MAROUA,Far North-Monday May 7, 2018-3 PM Local Time (Cameroon News Agency) University Authorities in Maroua, Far North Region have rough handled a reporter of Canal 2 International, Andre Mirabeau Mahop, for taking images of an uncompleted play ground, days after the kick-off of the 2018 Varsity Games.
The Sports Reporter sent to cover the games for Sweet FM Radio and Canal 2 International all based in Douala was beaten, his Camera confiscated and footage erased.He is said to have captured videos of Caterpillars struggling to prepare the Athletic track for the runners.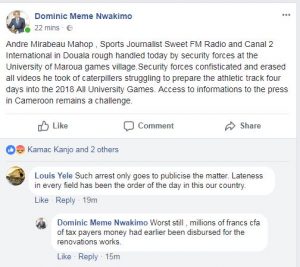 He was held hostage until his memory card was formatted including all other videos he took during the games.
Delay in the completion of pitches before University games has always been an issue in every competition where School Authorities battle to complete them even on the last day.