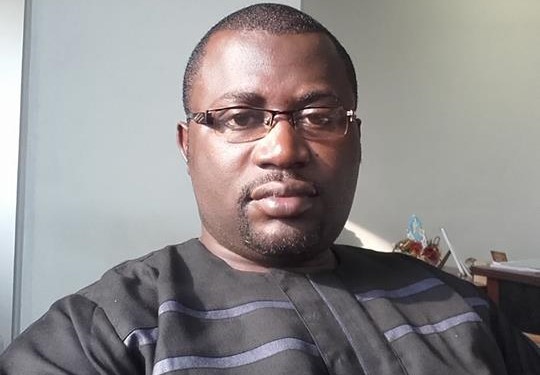 By Ngombet Claudia
The National President of the Cameroon Association of English Speaking Journalists, CAMASEJ, Simon Lyonga Lamolembe, has stirred the beehive as he describes some of his colleagues in the journalism profession as 'terrorist journalists'. He made such an allegation in his address speech to fellow journalists on the occasion of the commemoration of World Press Freedom Day on Friday May 3, 2019.
"…a good number of us have not been responsible journalists and have kept down their cloaks of reporting objectively, putting on the apron of activists who decide what side of the tale to tell their audiences. To these few we say it's not yet late, get back to the house and stop being terrorist journalists," Simon Lyonga said.
These words took many journalists in disarray, especially as he (Lyonga) has not been very active in his role as President of CAMASEJ. Some think that as practicing Journalist with the State own broadcaster CRTV, he has not as much been any different with reporting only government propaganda. He has contributed to turn a blind eye on reporting to the plight of the suffering people in English speaking Regions of Cameroon.
Some journalists expressed disregard that such a speech should be coming from a fellow journalist and head of a journalism association, and on a special day like this set aside by the United Nations to fight for freedom of the press.
Others added that they were shocked because Simon Lyonga is a journalist and as a journalist, he should know the ethics of the journalism and media profession, as well as the rationale behind the commemoration of World Press Freedom Day.
"This is the worst Press Freedom Day message I have ever read in my entire career, that a President of a journalists' association will address some of his colleagues as terrorist journalists shows how far we are still behind in terms of press freedom," Publisher of Cameroon News Agency, Nfor Hanson Nchanji said.
Following these reactions, the CRTV Sport journalist hit back at his critics. A statement purportedly coming from him reads , "Hello to all here. I have received a few calls from some colleagues proposing that we take off the word terrorist from my WPFD message. I prefer to keep the word and let the colleagues react as they wish. We must accept that we live in a world that has diversity in our reasoning and we must accept that we can't always reason alike. Today in our two regions we have an unfortunate situation but we must accept that life does not begin and end with the anglophone crisis whose end we all crave for. Those propagating false interpretations of my text are terrorists themselves. All through my message I praised colleagues for the good job they're doing and encourage them to do more. We have colleagues who were arrested arbitrarily and others who were abducted and nobody reacts on that. But we must also accept that in our profession like in every other profession we have colleagues who bring us shame. When you go up to a minister or any personality, promising to publish a finding unless you're given money. What are you if not a terrorist journalist. What are you when see one thing and write the other? A terrorist journalist. We should stop behaving as if the word terrorist was created just when the anglophone crisis began. I will stand on my point and still use such words whenever a colleague behaves in a manner that drags the profession in mud, I will not relent in calling you names. Not until you practice according to the cannons of our profession, especially that of impartially. We must learn to name and shame and stop cajoling each other in the name of solidarity. Solidarity is also the capacity to tell a friend that you're wrong. Once again happy feast to all who do their work well."
Simon Lyonga however appreciated other journalists for the great works they are doing to shape society at the expense of their security and lives. He therefore, urged all journalists to be responsible in their reporting by disseminating only verified and accurate information, especially as 2019 is an election year.
Other journalists who are in jail or have lost their lives while exercising their journalistic duties were equally remembered.
He ended his speech by calling on all to defend the rights of journalists, whose efforts help build a better world for all.