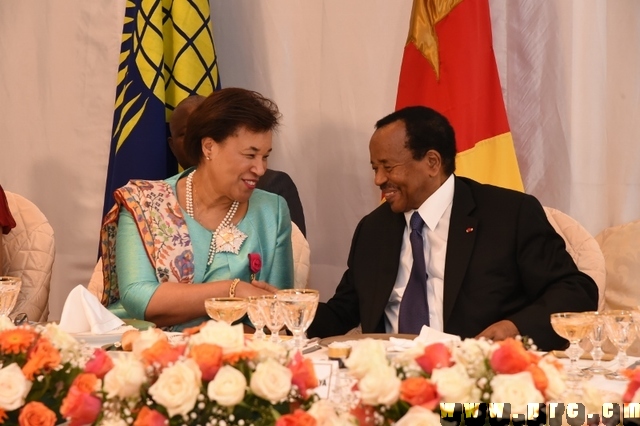 By NFOR Hanson NCHANJI
Buea, Cameroon-Thursday December 21, 2017-8:49 PM Local Time (Cameroon News Agency) It was never part of her program to visit any of the two English speaking regions during her five day working visit to Cameroon but the Secretary General of Commonwealth, Rt. Hon Patricia Scotland, squeezed her way through to obtain permission from President Paul Biya.
CNA gathered she met with the Minister of External Relations and Prime Minister Philemon Yang but her wish to visit one of the regions was never granted. Her last day with President Paul Biya was however fruitful, Patricia Scotland was able to obtain permission to visit Buea this Friday December 22, 2017 where she will meet with stakeholders involved in the Anglophone crisis.
Her visit to the South West region will allow her compare notes from what the government told her and the persons concerned.
Before leaving for Buea, the Commonwealth SG met with political party leaders represented at the National Assembly, amongst them, the National Chairman of Cameroons leading opposition party, the Social Democratic Front, SDF, Ni John FRU NDI.
Mr John FRU NDI said, "We accused her that she never intended to go to the regions concern, so she told us she will be going to Buea…We have never had meaningful dialogue in this country…Mr Biya has never addressed the people on this issue."
Rt. Hon Patricia Scotland has insisted that, "There is need for effective, productive and serious dialogue as soon as possible."
Scotland's visit to Buea is seen as first victory of residents who had mounted pressure for her to do so, saying in case it fails, her visit to Cameroon would have been fruitless.
(Picture PRC)
If everyone who reads our reporting, who likes it, helps fund it, our future would be much more secure. For as little as £1, you can support Cameroon News Agency on mobile money or call the number for details +237 679 700 696 – and it only takes a minute. Thank you.