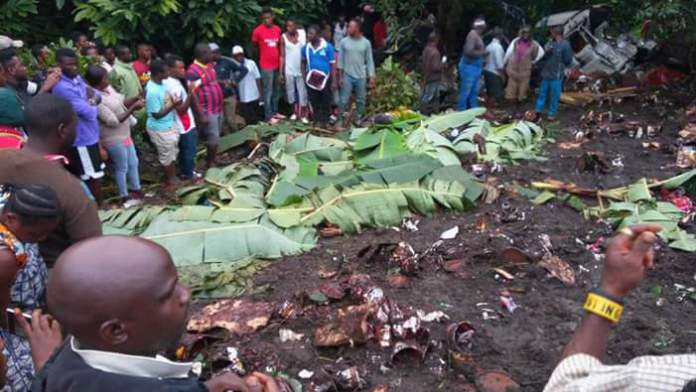 By Christopher Chigozie
Buea, Cameroon-Saturday August 19, 2017-8:00 AM Local Time (Cameroon News Agency) More than 18 people have died in a ghastly road accident which occurred along the Buea-Muyuka highway in the Southwest region,  in a locality known as mile 29 early Saturday August 19, 2017.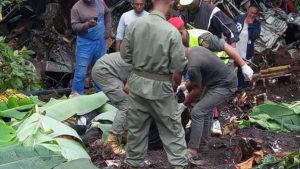 Horrible Scene As Gendarmes Wrap Dead Victims
The truck transporting Chocolates, Sweets and Crates which was descending the mile 29 hill lost control and violently hit an oncoming 18 seater bus on its way to Buea around 4 am. Eye witness account says another small vehicle was trapped beneath the truck.
Some 18 corpses were retrieved and taken on-board a truck belonging to the Cameroon Development Corporation to the Muyuka Mortuary, they were later transported to the Buea mortuary due to limited space at the Muyuka mortuary.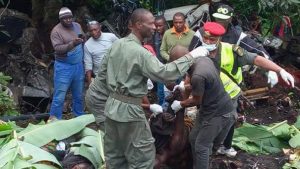 While rescue team mostly solders battled for close to three  hours to retrieve corpses trapped in the rubble.
The truck driver was also trapped on his seat. The lone survivor of the accident is the assistant driver commonly called "motto boy", he was rushed to the Buea hospital for medical attention.
Most of the corpses were retrieved by caterpillars from the site of incident. The occupants of the bus are said to belong to a choir returning from a wake keeping. A family is said to have lost four children while a chief lost two daughters.
The divisional officer for Muyuka sub division, Tambe Tabot described the scene as a "Sad Saturday in Mile Muyuka division" adding that it is the most catastrophic since the creation of the sub division in 1963.
Mr Tabot appealed on the population of Muyuka sub division and Cameroonians who know that their relatives traveled to come and identify the corpses at the Buea mortuary. He also said it is the fervent appeal of the population that the speed brakes should be multiplied as from Ekona towards mile 29,he told proprietors of vehicles to be cautious when driving. He said road signs need to be added to draw attention of drivers plying the road that the hill around mile 29 is a death trap.