Front page
Politics
Arrest of Ambazonia Leaders: Defense Counsel Files Writ Of Habeas Corpus, Demanding Their Immediate Release

By NFOR Hanson NCHANJI
DOUALA, Cameroon-Saturday August 11, 2018-11:10 Pm Local Time (Cameroon news Agency) Defense team of the Interim President of Ambazonia, Sisiku Julius  Ayuk Tabe and 9 others, has filed for Habeas Corpus at the Mfoundi High Court, Friday, demanding the President to order for the immediate release of the detained without conditions, CNA has gathered.
In a three page document which CNA procured a copy, the Defense Counsel led by Senior Barrister Fru John Nsoh, said the arrest of Sisiku Ayuktabe and 9 others at the Nera hotel in Nigeria on January 5, 2018 was in total violation of national and international laws.
They held that, Sisiku Julius Ayuk Tabe, Dr Fidelis Che, Dr Egbe Ogock, Prof. Awasum Augustine, Barrister Shufai Blaise, Wilfred Tassang, Cornelius Kwannga, Nfor Ngala Nfor and Barrister Eyambe Elias were unlawfully taken away by unidentified individuals on January 5, then locked up in a detention center in Nigeria until January 26 when they were taken to Cameroon in a Military aircraft without a security belt.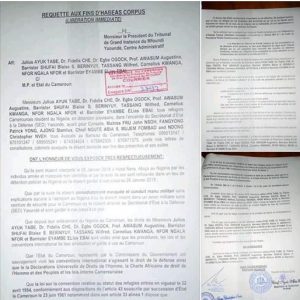 By so doing, the government violated international laws on status of refugees especially that which came into effect on April 22, 1954, article 43 and article 33 sub 1 of  23 June , 1961 (the year in which the convention came into force)which prohibits States from extraditing refugees whose lives could be at risk , also including races, religion, nationality and membership in political groups.
The Defense Counsel holds that giving all these irregularities and violation of laws and conventions, the President of the Mfoundi High Court in Yaoundé has the competence to order the release of Sisiku Jukius Ayuk Tabe and 9 others.
Last week Friday, members of the team visited the detained at the State Defense Secretariat, SED in Yaoundé, shortly after, one of them, Barrister Stanislaus Ajong, was attacked at his residence in Buea. His phones and laptop were taken as the men dressed in mufti promised to exploit them.
———————————————————————————————————————–
 If you love our daily and daring reports, Support us today by making a donation via 679 700 696

Or Paypal @ http://paypal.me/NNchanji