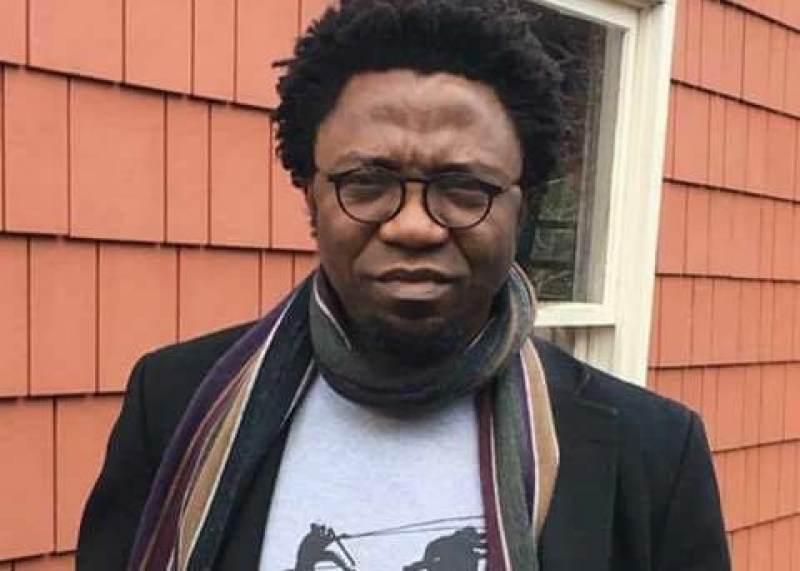 By NFOR Hanson NCHANJI
Yaoundé, Cameroon-Monday December 11, 2017-8:00 AM Local Time (Cameroon News Agency) Cameroonian born activist, naturalized in the United States, Patrice Nganang who was arrested on December 6, 2017 on his way to Harare, will appear before  the State Prosecutor in Yaoundé for the first time after his arrest.
In an outing Saturday, Communication Minister Issa Tchiroma Bakary said he was arrested on his way to Harare in Douala after he threatened the life of the Head of State, Paul Biya. He told reporters, the arrest of Mr Nganang comes after a death threat on the life of President Paul Biya in a message posted on his Facebook page on December 3, 2017."
During the arrest of the Writer, Poet and University Professor, Nganang, two Passports were found in his possession, Cameroonian and American.
Professor Patrice Nganang has been very critical on the Biya regime suggesting that Cameroon needs a new President. He also said if he had the chance, he will kill the Head of State. He has also been very critical on the way the government was handling the Anglophone crisis.
International Community Mount Pressure For Release
About 5000 signatories have been obtained as the international community takes interest in his case. PEN USA, Amnesty International, The African Literature Association, Human Rights Watch, Committee to Protect Journalists, Cameroon Peoples Paarty and other bodies have all pressed for his release. International Media organs have been reporting on the issue seen by many as bad advert for Cameroon at this trying moments.
Who Is Patrice Nganang
Professor was born in the nation's political capital, Yaoundé, and educated in Cameroon and Germany. He is a US citizen with a Ph.D in comparative Literature and will be a visiting Professor in the Humanities Council and Old Dominion Fellow in French at Princeton University.
Nganang is currently a Professor of Cultural Studies and Comparative Literature at Stony Brook University in New York, USA.
He is the author of several prize-winning novels, including Mount Pleasant and Dog Days as well as several books of Essays and Poetry.
If everyone who reads our reporting, who likes it, helps fund it, our future would be much more secure. For as little as £1, you can support Cameroon News Agency on mobile money or call the number for details +237 679 700 696 – and it only takes a minute. Thank you.