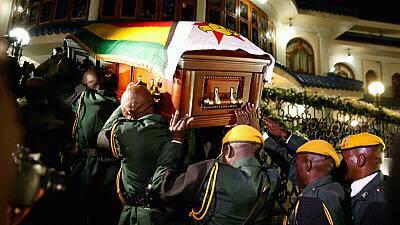 By NGOMBET Claudia
African leaders are meeting at the National Stadium Harare, Zimbabwe for ex-President Robert Mugabe's funeral.
Amongst them is Equatorial Guinean President Theodoro Obiang Nguema who is already at the scene of the funeral ceremony.
President Mugabe passed away on 06 September 2019 in Singapore while on treatment.
The demise of the former Zimbabwean President sparked a serious controversy between the deceased family and the government of Zimbabwe on where Mugabe's mortal remains shall be laid.
However, both camps arrived at a compromise on Friday concluding that the mortal remains of President Robert Mugabe shall be laid in state at National Heroes Acre.
Late Mugabe's family had earlier wanted him to be buried in his homestead of Kutama, North West of the capital contrary to Government's desire to grant him a monumental state burial in the National Heroes Acre Monument in Harare.
Earlier announced plans for the burial on Sunday 15 September seems to be annulled as the family of late Mugabe's and the Chiefs are preparing to build a shrine "mausoleum" for Mugabe, which will take about a month to be completed, family spokesman and nephew Leo Mugabe confirmed.
President Mugabe died at the age of 95 in Singapore after ruling Zimbabwe for close to four decades until when overthrown by the Army in November 2017 and replaced by current President Emmerson Mnangagwa.