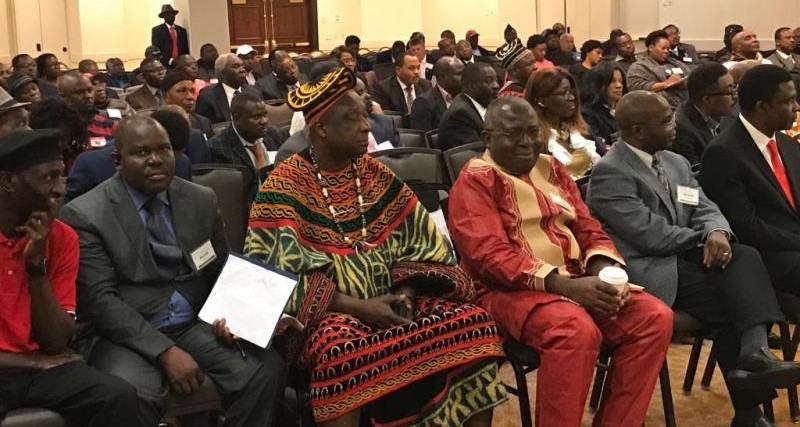 SCLC Says Negotiation Must Hold With A Third Party, On A Neutral Ground
Some 10 groups, members of the Southern Cameroon Liberation Council platform, SCLC, have rubbished President Paul Biya's idea to open a national dialogue in Cameroon by the end of September 2019. The Separatist groups including the Interim Government, have said for the conflict to come to an end, a mediated negotiation without conditions and not dialogue must hold and not in Cameroon. They described Paul Biya's outing as a circus to lure the international community into slumber.
"That is why, in the spirit of seeking genuine peace that is founded on justice, on international law, on United Nations-backed resolutions which grant Southern Cameroons independence, the right to self-determination and outlines a path for separation, we, hereby, reiterate our commitment to the third-party-mediated negotiations without preconditions called for and supported by the international community. " An SCLC statement read.
On Tuesday, September 10, 2019, in a highly anticipated speech, the President of Cameroon announced the creation of National Dialogue Forum which will be put in place at the end of the current month to solve the armed conflict in Southern Cameroons. He added that the Prime Minister, Dion Ngute Joseph will head the process. Mr. Biya also told Cameroonians that some people in the Diaspora will be added in the process. But hopes of inclusive dialogue with Separatists have been dashed. He insisted that those calling for the State of Ambazonia are not even Cameroonians but those who have gained citizenship in foreign lands.
The SCLC responded by saying that, "It is shameful that Mr. Biya used his address this September 10, 2019, to express frustration with the world that has denied him the license the Butcher of Yaounde seeks to slaughter Southern Cameroonians with impunity. Mr. Biya is particularly irked by the fact that Southern Cameroonians living in the Diaspora, including those who have acquired other nationalities, have refused to look away while their family members are slaughtered. Southern Cameroonians in the Diaspora, including those who have acquired other nationalities, along with people of goodwill the world over, will not rest until the baby-killing regime of Paul Biya is stopped in its genocidal tracks in Southern Cameroons."
They also said, no Southern Cameroonian aspiring the independence will not sit on the dialogue table of Dion Ngute, " The international community should note that anyone claiming to be a Southern Cameroonian who signs up to and/or participates in the dialogue called by Mr. Biya can only be doing so as a de facto hostage and prisoner of a barbaric regime that holds a gun to the head of all in order to abduct, deport, rendition, imprison, torture, "disappear", kill and/or execute political dissidents. The regime notably targets anyone who questions the illusionary "one, and indivisible Kamerun" that Mr. Biya continues to claim exists, talk less of anyone who supports the independence for Southern Cameroons.
We want the world to know that no position adopted during any so-called "national dialogue" convened by Mr. Biya and held anywhere in the Cameroons will ever be binding on the sovereign people of Southern Cameroons. No Southern Cameroonian can meet and or debate freely in a setting where they face abduction, deportation, rendition, imprisonment, torture, execution, enforced disappearances, etc. at the hands of the terrorist regime of Mr. Biya. Locked in an existential struggle, our people now know that our survival depends on our determination to defend ourselves and our dignity as a people. It depends on the ability to defend our freedom and to stop being the only country on earth that won independence before the United Nations but has been denied the right to enjoy that independence. We will settle for nothing less. "
While calling on all, especially fighters on the ground to remain vigilant, the SCLC has urged Mr. Biya to demilitarize the entire North West and South West regions.
President Paul Biya was not clear about the negotiation process ongoing with Switzerland and HD Centre and negotiators. He, however, thanked any country and organisation that has made attempts to negotiate the way forward.